2022 marks PAFE's 20th anniversary, and to celebrate, we will share a story each month to honor the teachers and students who are making a difference thanks to your donations. 
Willy Wonka Production at Sandpoint High School
"We are the music makers, and we are the dreamers of the dreams."

– Willy Wonka
Finally, after three years of starts and stops due to COVID, Sandpoint High School, under the direction of Jeannie Hunter, presented Roald Dahl's Willy Wonka, and we had the pleasure of visiting the dress rehearsal the night before opening day.
What a treat it was to see these students of all ages nervously preparing, busily practicing lines, singing their scales, making up their faces, setting the stage, and putting the props in place.
We couldn't get enough of the Oompa Loompas.
PAFE is proud to have funded the license to produce this play on stage, a highly unusual production for a school our size to host. Adults complete the directing, training, and coaching, but students run the actual show. More than 100 students as young as nine years old were involved in the cast, staging and set, makeup, sound, and lighting.
"Our musicals are heralded as being better than those in larger markets in other parts of the country," said Jeannie in her grant application.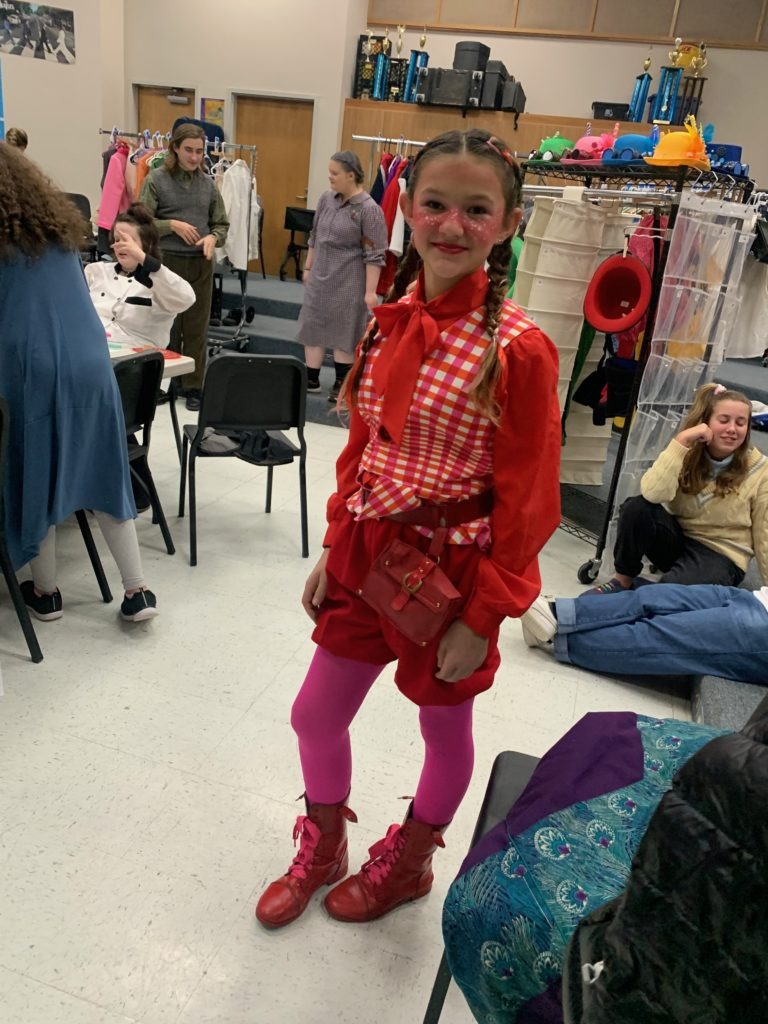 In a typical production cycle, students audition/apply and commit to daily rehearsals for approximately 12 weeks during the school year. (Students from Sandpoint High School, Sandpoint Charter High School, Clark Fork High School, Lake Pend Oreille High School, and home-schooled students were invited to audition.)
But this was not a typical production schedule in the time of COVID. The stagecraft class began constructing the complex set in the Spring of 2019, and rehearsals started shortly after with a hardworking cast. Weeks before opening night in 2020, the crew had to make the heart-wrenching decision to postpone the show. They picked back up in the fall of 2020 and were ready to go. In fact, the set consumed the stage in the auditorium! But, it wasn't until the fall of 2021 that they could move forward with show dates set for Jan 2022. "We had to recast the entire show," said Jeannie, "because two years of seniors had graduated, and the original Charlie had grown a foot taller!"
Over the years, Jeannie Hunter has managed 72 productions. PAFE's grants have helped her by funding royalty and rental fees, video and audio equipment for the auditorium, and makeup equipment.
As students applied makeup and donned their costumes, checking and helping each other, they multi-tasked by warming up their voices and practicing scales.
They had been through a lot and compound all these complexities with the fact that a January storm cycle canceled many late rehearsals; students felt nervous but knew they were prepared and that the show must go on, finally.
These young adults might not go into acting as a profession. Still, the experience of stepping onto the stage and elevating their voices inspires self-confidence. We can see them "taking the stage" in whatever room they might fill as they go on to the following chapters in their lives—participating in the Willy Wonka production teaches adaptability and leadership, and organizational skills to be successful in life.