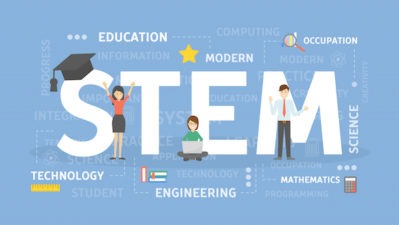 "In the 21st century, scientific and technological innovations have become increasingly important as we face the benefits and challenges of both globalization and a knowledge-based economy. To succeed in this new information-based and highly technological society, students need to develop their capabilities in STEM to levels much beyond what was considered acceptable in the past." — National Science Foundation
PAFE supports a wide range of educational programs and projects – from improving reading proficiencies, staging Broadway plays, and participating in Decathalete and Model U.N. contests to helping high schoolers envision life after graduation.
But we'd like to take a moment and call attention to some of the programs we're especially proud to support – those that involve STEM (science, technology, engineering, and math) education.
Why do we think it's important to foster STEM education?
STEM education creates critical thinkers, increases science literacy, and enables the next generation of innovators. According to the US Department of Commerce, STEM occupations are currently growing faster than any other occupation. Studies show that STEM workers earn a higher salary than non-STEM workers, and they play an important role in the growth and continuity of our nation's economy.
LPOSD places a high value on combining both STEM and experiential learning to help students find new paths to academic success.
STEM learning can be very hands-on and skill-based, often requiring students to do things with their hands to discover specific knowledge or to develop particular skills. Most importantly, it helps give them a vision and find a passion for what they want to do in the future.
We have shown specific stories on our Facebook page (are you following us?) But here are more examples that are supported by PAFE grants.
Quantitative Analysis Lab – LabQuest 2 data collection devices were purchased to improve the level of accuracy in water and soil analysis labs currently used in Advanced Placement Environmental Sciences and Dual Credit Horticultural Plant and Soil Science classes. These college-level courses require precision when doing quantitative analysis. This kind of experience in high school will give students an advantage in their further studies or careers.
2019 Pend Oreille Water Festival – Fifth-grade students learn to appreciate, respect and protect our water resources, with a watershed education trunk, interactive in-class lessons, and an outdoor field trip to Riley Creek Recreational Area in Laclede. Students have the opportunity to be outside and learn about watershed first-hand.
Experiential Snow School – Each fifth grade class in the district is learning about our local watershed and then heading up to Schweitzer to experience it first-hand using authentic science and math. Students have an opportunity to develop an appreciation of our watersheds and take in the beauty that lies just outside their doorways.
Mission to Mars – The Mars Rover program at Sagle Elementary School is an advanced program designed to enhance math and science concepts through participation in structured, hands-on activities and team-building exercises, culminating in the construction of a Mars Rover robot. Many of these activities address the Common Core Mathematics Practice Standards for grades five and six.
STEM Summer Reading — Students at Kootenai Elementary attend Summer Reading at their school library where teachers, parent volunteers, and student mentors provide hands-on assistance to a STEM lesson, featured reading activities and science experiment activities.
Exploring Nature Connections – Students in Kindergarten through 8th grade at The Homeschool Academy participate in hands-on fieldwork connecting art, math and natural science with the elements on the periodic table and soil contents to learn how elements become soluble.
Future is Bright — Sixth-grade students at Washington Elementary collaborate and design all aspects of a city 100 years in the future, incorporating all aspects of STEM. Students also have the opportunity to participate in the Future City State Competition at Boise State University.
Think Differently  SmartLabs — 150 students in grades K – 6 at Southside Elementary School will be challenged to a higher level of thinking in the STEAM (Science, Technology, Engineering, Arts, and Math) areas. The SmartLabs program includes hands-on kits to experience circuitry, computer graphics, digital communications, mechanics and structural engineering, robotics, and control technology, scientific data and analysis, software engineering, mathematics, and sustainability. This program is a partnership between PAFE, Equinox Foundation, and LPOSD. Read more. 
Summer STEM Camp – Farmin Stidwell and Kootenai Elementary students who attended this year's STEM camp did more than watch TV and play video games this summer. They were lucky enough to participate and engage in robotics, coding, and maker space in which to do it all. This program is offered at no cost to the families to give students from low-income families a jump start on life.
What's next? LPOSD and PAFE are purchasing various STEM kits to be reviewed and evaluated in the coming years. The emphasis on STEM will only increase to continue to set our students up for success.